Check out Carter and Co Café/Bar
A relaxing drive to the fabulous Berrigan Book Shop proved quite fruitful on a particularly cold day recently.
First stop was the book shop which today houses 50,000 books. Not an easy task making a selection, however if you have a liking for particular authors, they are all catalogued and easily found. If you are doing research, you can select one or two books, curl up on one of several comfy chairs or couches and make notes in comfort.
This gem of a bookshop has become quite an attraction for readers throughout the region, offering a huge range of fabulous titles rarely found in country areas.
Next stop was the newly opened Carter and Co Café/Bar, situated at 72-74 Jerilderie St.
Formerly known as the Blue Door, it has been completely transformed by its new owners and has a new look, and new menu. It's a bright modern café with a thoughtful menu and offers a beautiful seating area outdoors.
Licenced, the café is open seven days a week, with Friday night cocktails and lots of home-made taste temptations, it's certainly worth a drive.
Tattersalls pub bar
The Tattersalls Hotel in Tocumwal has been transformed by owner Rex Watson into a stylish pub/bar with heaps of character.
Walking into the bar, whether it is beer you are after or just a wine, you are well catered for, with the largest range in the district of beers on tap including Guinness. Together with a good selection of spirits and artisan wines too.
On Friday nights It's standing room only in the main bar with live music, a monster meat tray raffle with 12 prizes to be won plus the chance to top off your week by taking home $3000 on the spinning wheel.
The hotel, approximately 90 years old, has been completely refurbished and has a warm and welcoming feel with heating indoors and out, a newly decorated main bar, dining room and billiard room, electronic functioning TAB facilities and a huge outdoor area with loads of cosy undercover spaces to hold special events, any time of the year.
Purchasing the hotel four years ago Rex Watson loved the style of the hotel and its location.
''My initial thoughts were I could make it into a home or a smart boutique pub and bar. The latter idea won and I started working on it and just kept going,'' said Rex, who has a keen interest and love for period artefacts dating back to when he was just eight years old and his grandmother presented him with a miniature pewter knight.
Today the hotel is alive with memorabilia of a time long ago and guaranteed to bring back recollections and memories, encouraging strong and animated discussion of a wild period in history.
"If you see something you like and can buy it, then why not. I must admit I am a little hooked on collecting pieces that intrigue me," said Rex, who has a special piece on the way which will undoubtedly cause a great deal of discussion.
While Rex Watson is a businessman running Watson Drilling and concentrating primarily on work within the mining industry, he needs a righthand man when away and chief barman Tyler Seabrook fits the brief perfectly. Nothing is a problem for this affable young man, he is well organised, he knows what he is doing and has the pub and bar under control.
"I love it here and pleased that everything is going so well and thank the community for their fantastic support," said Tyler.
Tattersalls is open from 3 pm until late Wednesday, Thursday, Friday and Saturday with dinner available until 8pm while Sunday lunch is served from 12pm to 3pm. Book in today and enjoy a grand country roast dinner, the size of which will test the hungriest of diners. Booking is a must if you don't wish to miss out.
Monday and Tuesday, the hotel is closed.
Tattersalls hotel in conjunction with The Palms and Terminus hotels now offer free bus transport within town limits to ensure their patrons arrive home safely after a great night out.
Refugee Week brings some surprises
Cobram Community House hosted a morning tea for Refugee Week in recognition and celebration of our many refugees who have made Cobram and district their home.
A delicious morning tea was offered to guests and I was encouraged to try a curry puff made by Malaysia-born Yusniza Yusoff, who conducts popular cooking classes showcasing a wonderful range of dishes. Incidentally the curry puff was brilliant.
Meeting Yusniza (Niza) that morning, I learnt that on July 8, 9 and 10 she will compete in the World Food Championship at the Melbourne Convention and Exhibition Centre. The championships will also be held in Sydney and countries around the world and is now in its 10th year.
With seven categories in the competition Niza is one of five finalists selected to compete in the beef category. Category winners will have a chance to compete at the world titles in Las Vegas later in the year.
It is a tribute to this beautiful Cobram woman's culinary talents that she has won an opportunity to showcase her talents on the big stage.
Good luck Niza.
****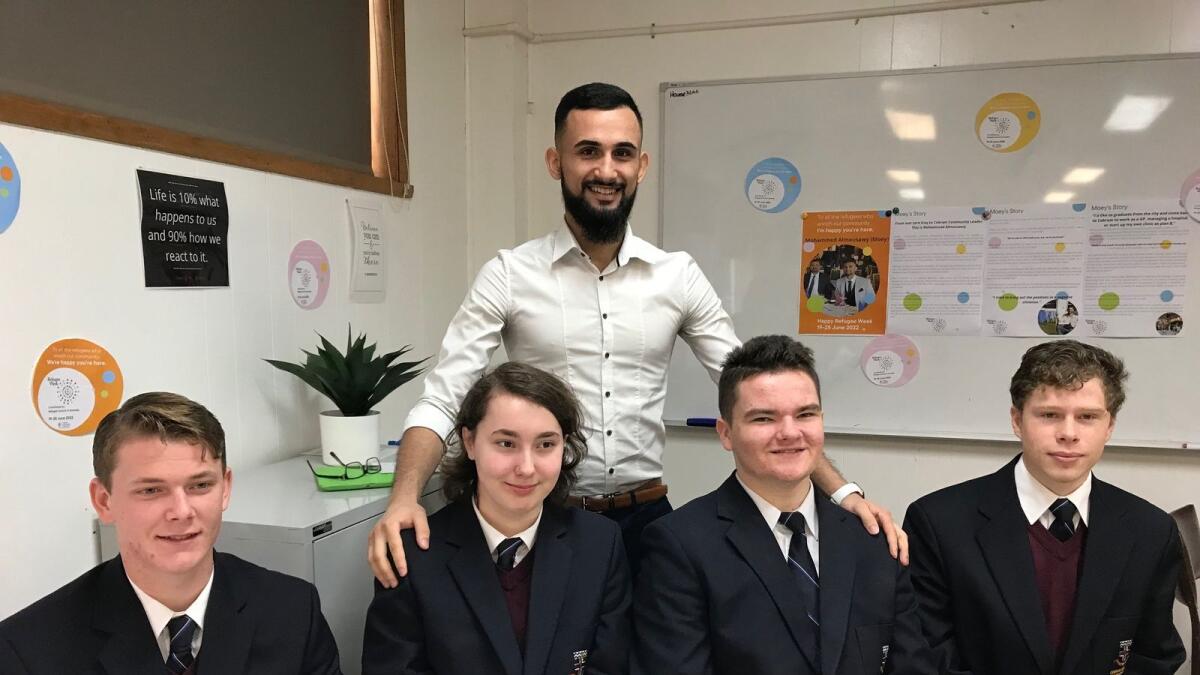 Mohammed driven to achieve his dream
Young university student Mohammed Al Mousawy, known as Moey, was an inspiring guest speaker at the Refugee Week event.
"My dream is to become a doctor, a cardiologist and come back to work in Cobram." said Moey, 22, the second son of a family who fled Iraq to come to Australia for a better life.
The Al Mousawy family migrated to Iran from Iraq, then travelled to Malaysia where Moey was born and on the journey to Australia their boat was stopped by Australian border authorities and the family taken to Christmas Island.
On release from Christmas Island the family arrived in Shepparton to stay with relatives and later made the move to Cobram. Moey's family came from poor beginnings in Iraq, a country at war with its people and the West. Life was traumatic for them with death and destruction all around them and his father, a farmer, worked horrendously hard to provide for them and courageously set a fine example for his seven children. Arriving in the district, nobody in the family spoke English apart from Moey's father and only just a little, however, as each child attended school they soon learnt, yet communicated in Arabic with their parents at home.
In 2018/19 Moey attended the Anglican Grammar School where he sat for his VCE and was voted school captain. This year he completes his biomedical science degree at Victoria University and is hopeful of attending Melbourne University in 2023 to study medicine.
"Cobram has created who I am today and I want to come back as a doctor and a high hope of attracting more doctors to the area," said Moey determinedly.
"My dream is for Cobram to have a larger hospital with all the facilities and no longer a need for patients to go elsewhere for surgery, it would all be right here in Cobram."
* Mohammed Al Mousawy is an impressive young man determined to give back to his community and was an enthralling guest speaker at the Refugee Week morning tea held at Cobram Community House.