Ratepayer group calls for external review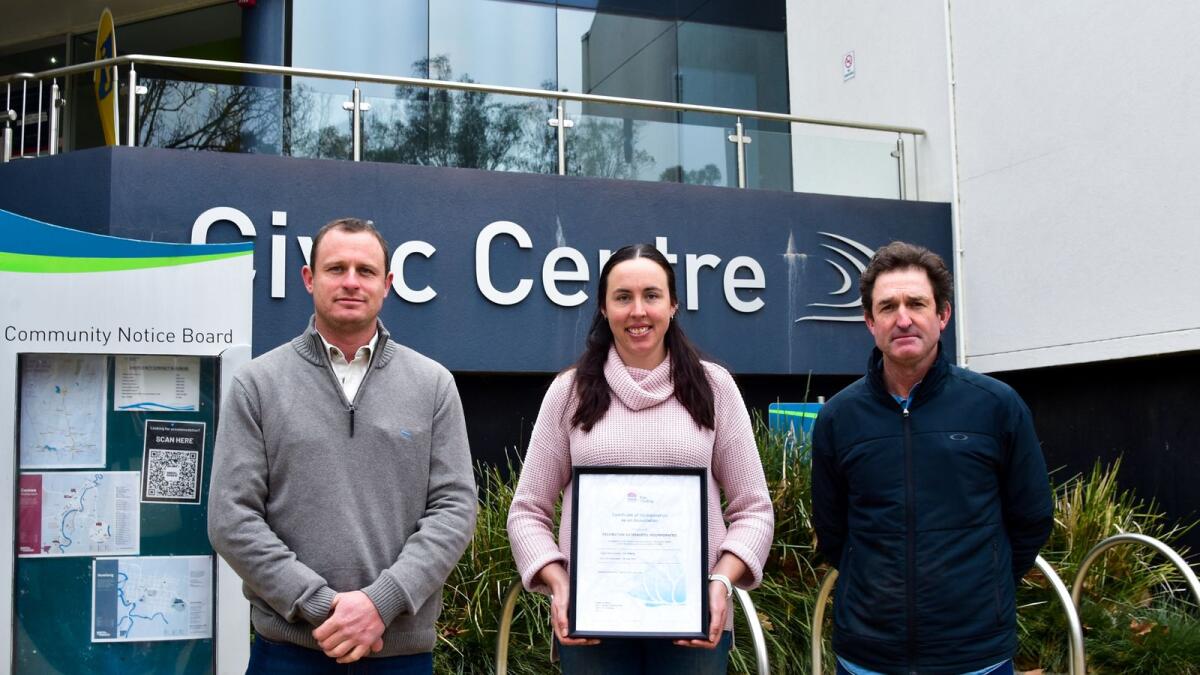 The newly incorporated Federation Ratepayers group is urging Federation Council to undertake a fully independent external review of their financial sustainability.
Federation Ratepayers Incorporated officially formed last week after a series of meetings and public gatherings were held in June amid the proposed Special Rate Variation (SRV) of 60 per cent over the next four years- subject to IPART approval- which was unanimously endorsed at the June council meeting.
Prior to the June meeting, around 200 ratepayers gathered outside of the chamber to express their disapproval with the significant rate hike.
The association's chair David Bott said the group was formed to raise council's standard of accountability, transparency and community engagement within the shire.
"Our mission statement is that we are a ratepayer advocate group striving to achieve a well-managed, transparent Federation Council that our community can be proud of," Mr Bott told the Free Press.
"An independent financial review which we requested at councils June meeting, would instil a considerable amount of confidence into the community and demonstrate along with strong leadership, a willingness by council to examine all options rather than just putting up the rates.
"If you look at the Cootamundra-Gundagai Council, who are in the same OLG group as Federation and also amalgamated in 2016, their recent independent review by consultant Bob Finch revealed serious budget mismanagement and overspending.
"There were 17 recommendations which were welcomed by the mayor and endorsed by the councillors. We believe strongly that it's a professional approach to fiscal issues that our council should be undertaking as well.
"An independent financial review which we requested at councils June meeting, would instil a considerable amount of confidence into the community..."
"If it's good enough for the Cootamundra-Gundagai Council, who are applying to IPART for a 53% SRV over four years, then it's good enough for us.
"Their mayor has shown good leadership by supporting the review and the recommendations handed down in the Finch report. We would hope our council wouldn't be too proud to take the same review process.
"This isn't about kicking council, but rather working with them to recognise the need to explore all options available rather than rate hikes alone.
"We also want to see some reinstatement of the way council is actually run. As far as council meetings getting out to the public, we want to see some true and worthwhile debate broadcast to the community and ratepayers.
"The last council meeting highlighted how much that is being stifled by only running for 37 minutes. It's very hard for ratepayers to get around and support ideas when we can't review the debate that's going on."
Council Response
Federation Council Mayor Pat Bourke welcomed the formal status of the group and said council is always looking for new ways to engage with the community.
"With the formation of this group, council like many other groups we engage with, will be available to meet with them if requested, including in an ongoing capacity, to further understand their concerns and present any information reasonably possible to assist the group to understand council's financial position, increase transparency and or other concerns they may have," he said.
"Council meetings are open meetings and only closed for requirements under the Local Government Act for some reports such as parts of tenders. Whilst the July meeting was only a short meeting, this was due to many previous months of substantial numbers of reports being considered including an enormous June Business Paper. Council work continues regardless of the length of council meetings."
Mayor Bourke said council's financial sustainability journey commenced on formation in 2016, and with the first elected council in September 2017. Utilising a portion of the merger implementation funding, council engaged to develop a completely new Long Term Financial Plan. From May 2016 onwards when Federation Council was formed, the Long-Term Financial Plan was a combination of the two former shires plans, as was necessary in order to enable to ongoing service delivery across the new council areas.
"Council in 2018 engaged CT management who then worked with council to map all services more specifically, resulting in 43 defined services, and costed these and developed an entirely new long-term financial plan for implementation at the start of 20/21," he said.
Mayor Bourke said the plan allowed council to have a ten-year projection under a new long term financial plan from 20/21 onwards and is reviewed and updated yearly and in between if required.
Mayor Bourke added that with savings and efficiencies being found the plan projects to maintain similar services and improve some levels of service as is needed, such as roads, and the need for additional revenue including the rate increases proposed.
"This work went on alongside and parallel to a review of the organisational staff structure, as new elected councils are required to do in the first twelve months of being elected," he said.
"This resulted in a clearer alignment of management to services, and an entirely new senior staff structure including directors. Council's information and reporting to council on financial matters improved vastly, and it's all there for people to review in each month's business paper."
Mayor Bourke said in relation to comparing Federation Council to Cootamundra Gundagai Council, "I don't speak for council in this regard, as it has not been formally considered at council (an independent review), but I would welcome any review if council wished to allocate a budget for it.
"I would say though that essentially every consultant can come up with any picture they want, good or bad, and if council do resolve to have an external review undertaken, I am aware there are procurement requirements, but to me unless we were to fairly be able to use the same consultant as Cootamundra Gundagai Council, it would be hard to get a comparative report," he said.
"Despite being grouped into similar sized and characteristics, councils are all different when it comes to on-ground services, asset conditions and how they value things. As an example, our depreciation is the only reason for an operating loss (non-cash) each year. This depreciation was increased by over $3 million last year based on a required revaluation of roads to consider what it now costs to repair those roads based on current standards required and escalating costs."
Mayor Bourke said regarding merger savings, that whilst he can't speak for how Corowa Shire went about their merger proposals and consultation with the public, he wished to assure residents that Urana Shire consulted extensively and at no point did they ever suggest there would be savings.
"Urana Shire Council strongly opposed the merger and only in the event of a forced merger, which we thought was likely to happen to us, only then did we state, to have some say in our destiny, that Corowa Shire would be the preferred merger partner," he said.
Mayor Bourke said council is very aware where its strengths and weaknesses lie in regard to their financial sustainability and looked forward to ongoing discussion and engagement with the community.
Federation Ratepayers Incorporated will represent all ratepayer groups and will promote collaboration between councils and residents. The group can be contacted by email, federationratepayers@outlook.com, or through their Facebook page.