A Year in Review July-December
July 7
The Benalla community celebrated NAIDOC week with a flag-raising ceremony on Mair St.
Centrelink permanently close its office in Benalla moving to an agency model.
In sport Violet Town's Josh Mellington kicked a staggering 26 goals against Tallygaroopna.
July 14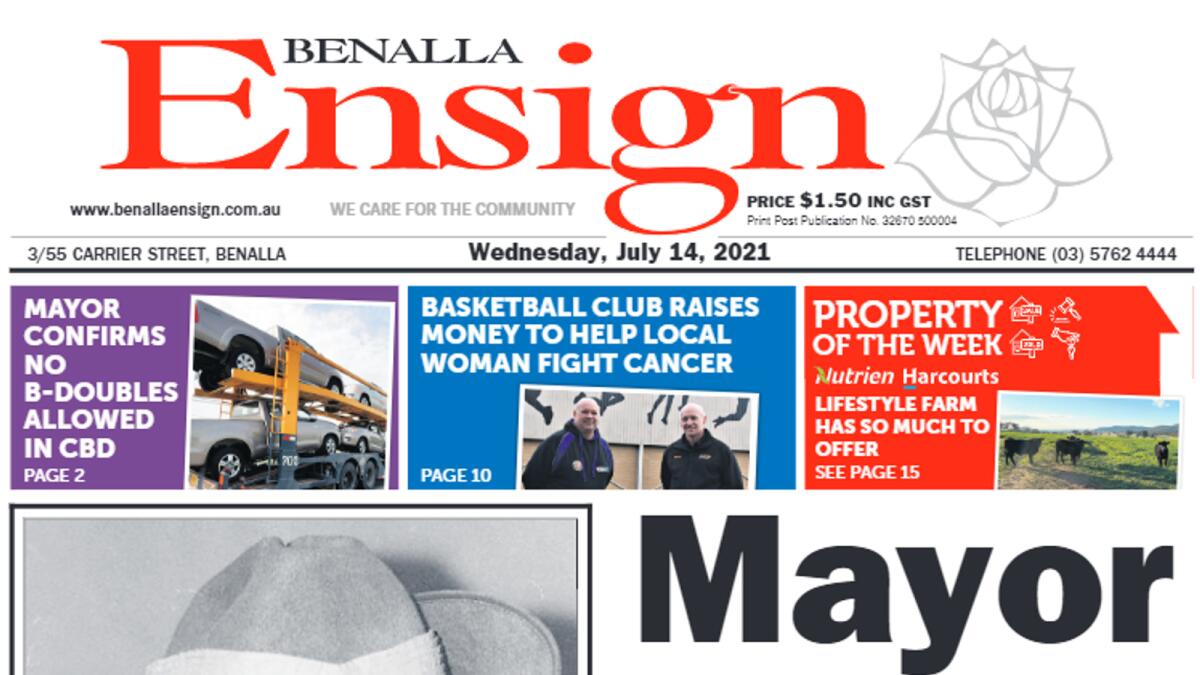 Vietnam Veteran Colin Bermingham started a campaign to have a memorial to Pte Lindsay Brown, the only Benalla man killed in action in the Vietnam war, a permanent memorial in the Rose City.
Benalla's Sylvia Draeger celebrated her 100th birthday with a family party at the Benalla Bowls Club.
Benalla's Zak Best produced back-to-back fourth placings at the NTI Townsville 500.
July 21
A group of anti-vaxxers held a protest against COVID-19 restrictions in Benalla's Botanical Garden. Of the nine people in attendance only three or four were from the Rose City with most travelling from across the state to join in.
Benalla's Rob Adelberg took out yet another X-Games gold medal, winning the best motorbike trick in California.
In sport Zak Best placed first place in the WD-40 Townsville SuperSprint.
July 28
Decorated Benalla cyclist Baden Cooke spoke to The Ensign about his upcoming appearance on Australian Survivor: Brain vs Braun.
One man was arrested and five people were given a warning for breeching COVID-19 restrictions at a protest in Benalla.
In sport the Benalla All-Blacks announced Nich Spencer would return as coach for 2022.
August 4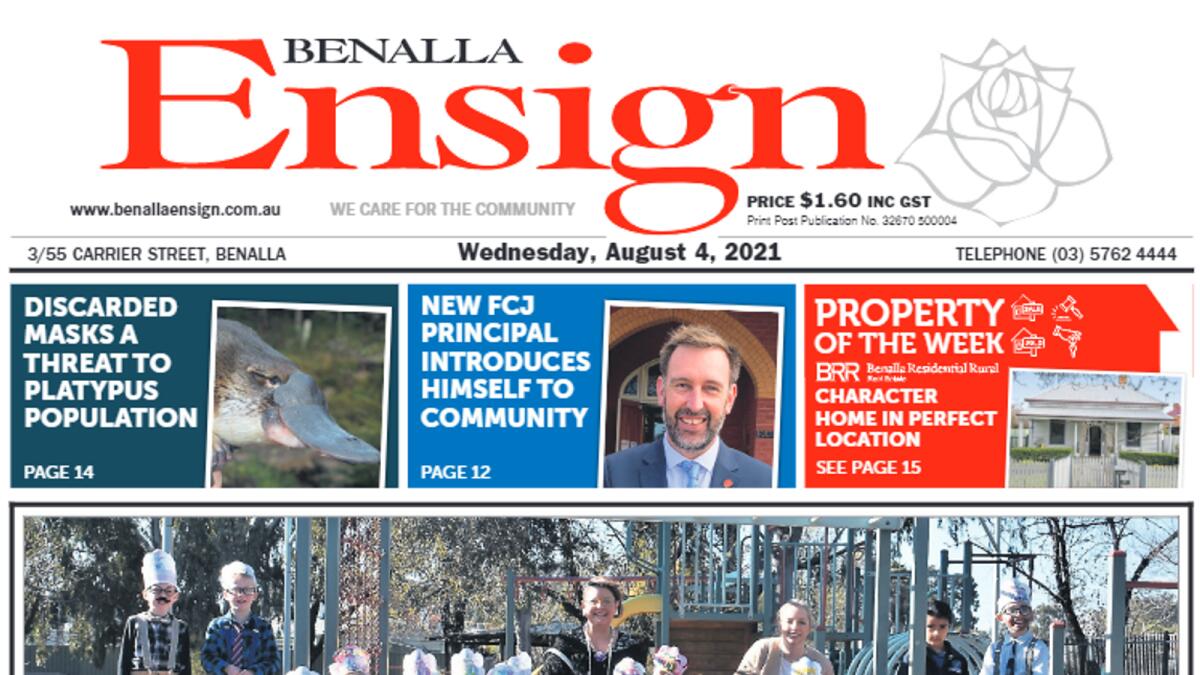 Three pharmacies in Benalla announced they would be able to administer COVID-19 vaccinations as soon as a supply was made available.
Youngsters celebrated 100 days of Prep with dress up and activity days at schools across Benalla and district.
The Benalla Giants beat the Benalla Bulldogs in a local derby in the Wangaratta and District Junior Football League.
August 11
Benalla's Cooinda Aged care took part in some yarnbombing with a colourful display put together by residents.
A Benalla Rural City satisfaction survey produced mixed results with a specific focus on a the need to improve community consultation.
The Victorian Government announced that community sport could return much to the delight of local clubs.
August 18
Students and staff at the Australian Christian College Hume held a special sod-turning to mark the arrival of three new classrooms.
Federal Member for Indi Helen Haines encouraged young people in Benalla to join a youth advisory panel giving them a voice in Canberra.
Goorambat A-Grade netballers celebrated Amelia Skilbeck's 350th game for the club.
August 25
Plans for an upgrade to the Benalla Visitor Information Centre were released.
The complex will include a new cinema, café and toilets for the adjoining splash park.
It was a sad day for the Rose City as council announced the 2021 Benalla Festival had been cancelled.
"Here we go again" was the back page headline as community sport was once again put in ice.
September 1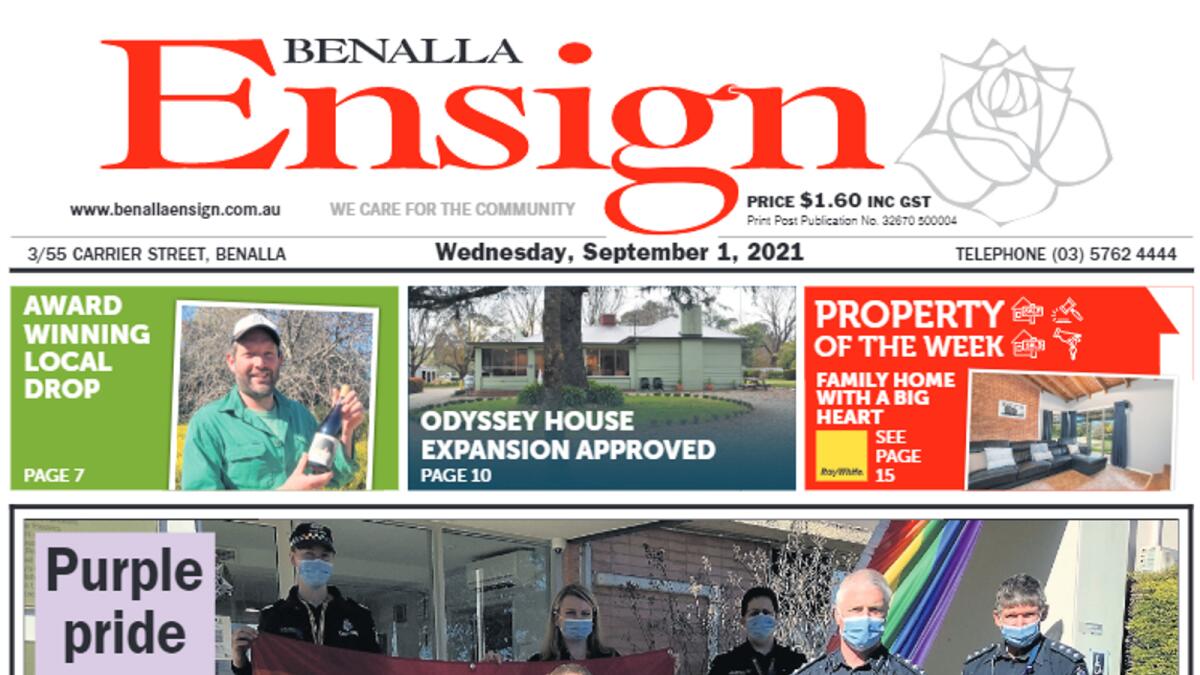 Benalla Rural City Council confirmed plans released for upgrades to the visitor information centre upgrade was not set in stone and the community would have some input into the final design.
The Ensign was given a tour of Odyssey House and spoke to its staff about plans to upgrade the facility.
In more bad news for sports fans the Goulburn Valley Football League announced it had cancelled this year's finals.
September 8
The Ensign spoke with Goorambat's Anne Marie Greenway about the stress caused by confusing and conflicting information regarding her ability to attend vital medical appointments in Albury because of border restrictions.
Benalla had reason to celebrate after COVID-19 vaccination rates revealed the Rose City had the most people, per capita, fully vaccinated in the north-east.
Abbey Ellis and Kolby Wild were confirmed as A-grade and B-grade netball coaches for Violet Town's upcoming season.
September 15
Benalla's Year 12 students at FCJ College and P-12 College were given the opportunity to get vaccinated against COVID-19 on Jabba the Bus.
Federal Member for Indi Helen Haines said she believed the Australian Rail Track Corporation would listen to the overwhelming number of Rose City Residents opposing a new overpass at Benalla Station.
Benalla trainer Ken Aldous and his four year old gelding Sokkies took out first place in the $25,000 Hygain Maiden Plate in Echuca.
September 22
Benalla dodged another bullet when a delivery driver tested positive for COVID-19, but did not pass the virus to any local people.
FCJ College teachers put together a lip-sync clip to entertain students having to home-school.
In sport Will Martiniello and Mark McKenzie were named co-coaches of the Benalla Saints for the 2022 season.
September 29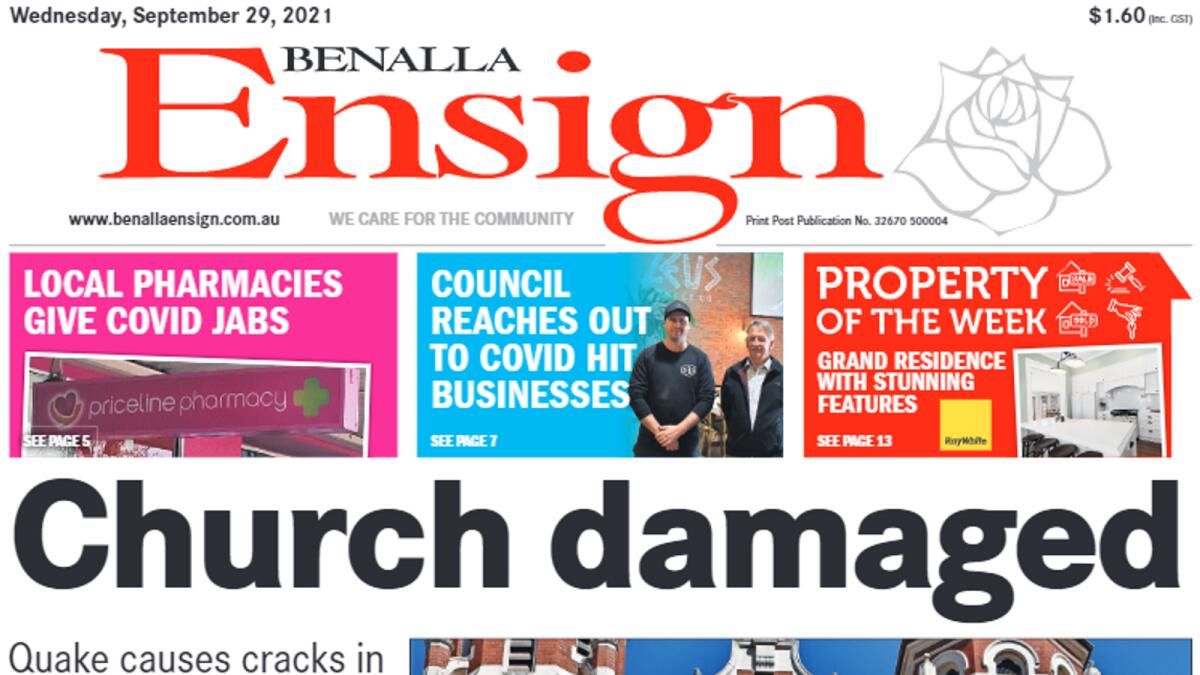 Benalla shook and swayed as a magnitude 5.9 earthquake rocked the state.
Locals told their stories of the quake and large cracks appeared in Benalla's historic St Joseph's Church. Luckily further inspection found the damage to be mostly cosmetic.
After the Australian Rail Track Corporation released three design concepts for alterations to Benalla Station as part of the Inland Rail project, Mayor Danny Claridge backed the community's preferred plan — the relocation of 3.5m of track.
Benalla's Kenneth Mankey was named to the Australian National Stock Car Team.
October 6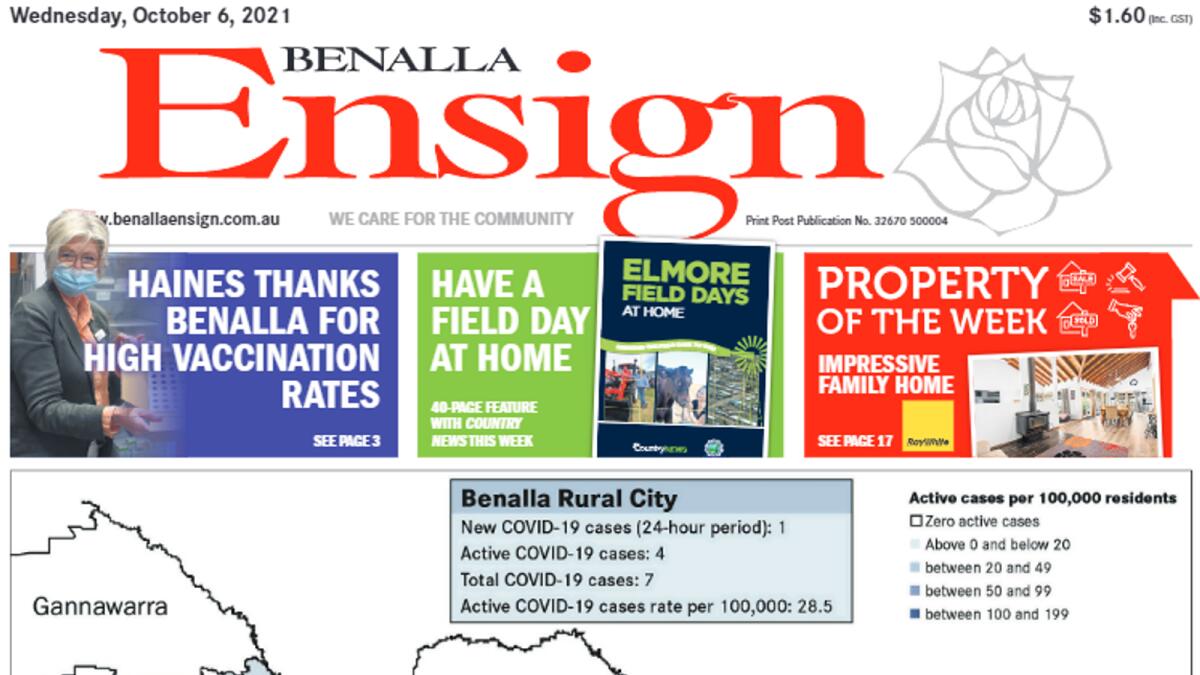 Benalla had it's first positive COVID-19 case in months as the virus finally made its way back to the Rose City.
Federal Member for Indi Helen Haines and State Member for Euroa Steph Ryan called on Benalla to be placed back in the border bubble.
The Victorian Government announced a Community Sport Survival package to assist clubs affected by COVID-19 restrictions.
October 13
Benalla's Lorraine and Geoff Draper celebrated their Diamond wedding anniversary.
Benalla Rural City was officially returned to the border bubble.
In Sport Kellie Keen was named coach of the Saints' A and B-grade netball teams.
October 20
Founder, and inaugural chair of Tomorrow Today, Liz Chapman, announced she would retire from the organisation.
It was a win for people power as the Australian Rail Track Corporation backed the community's preferred plan for the alteration of Benalla Station as part of the Inland Rail Project.
Benalla's Zak Best was confirmed to compete in the Repco Bathurst 1000 in December.
October 27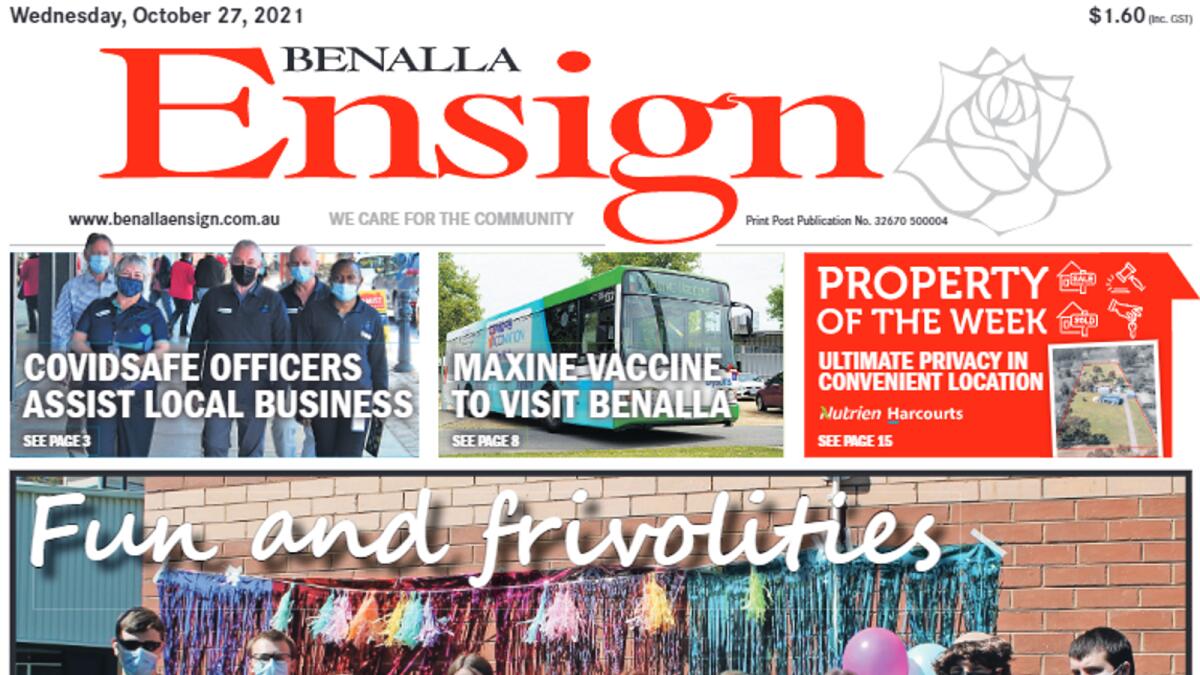 Year 12 students from FCJ College and Benalla P-12 College had a day of fun and games, and dressing up, to celebrate their end of year.
COVIDSafe officers were available to assist local businesses remain open while being COVID-19 compliant.
Winton Motor Raceway announced that Stutt'Fest Porsche race would be held at the beloved regional track in January.
November 3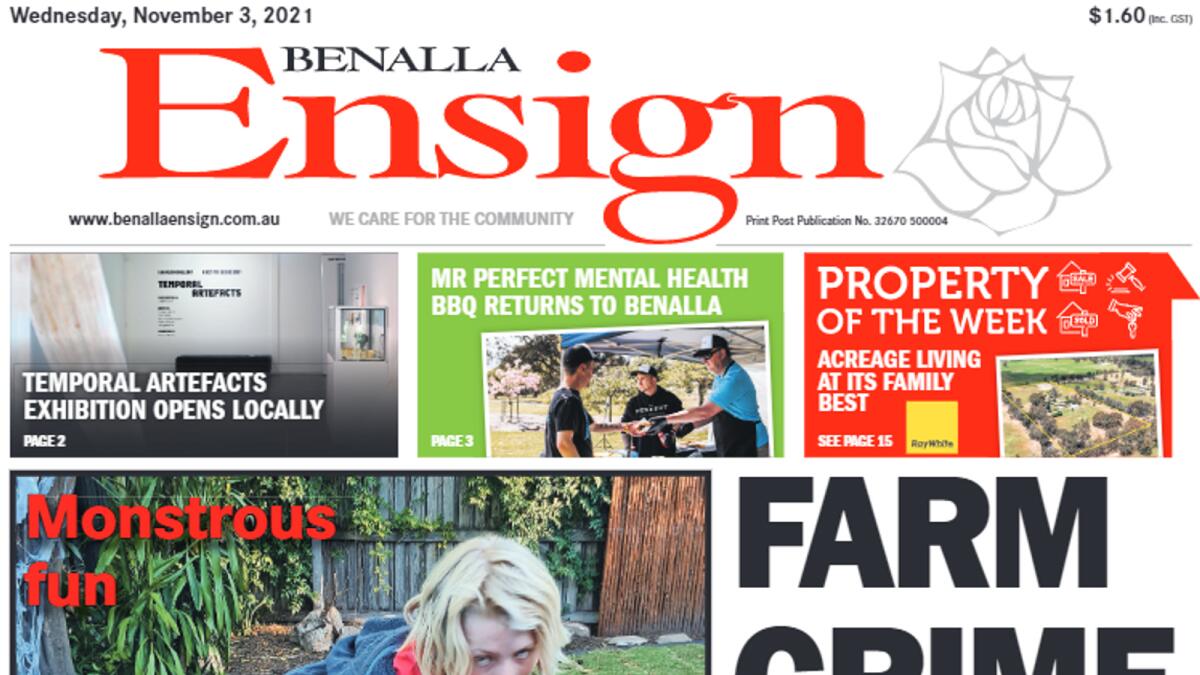 Benalla Police spoke to The Ensign about its farm liaison officers and how they could assist local landowners avoid rural crime.
The Ensign ran a photo spread of damage to the former Dunlop-Barkly St campus of Benalla P-12 College.
Benalla Racing Club announced it would welcome spectators back to the upcoming Euroa Cup.
November 10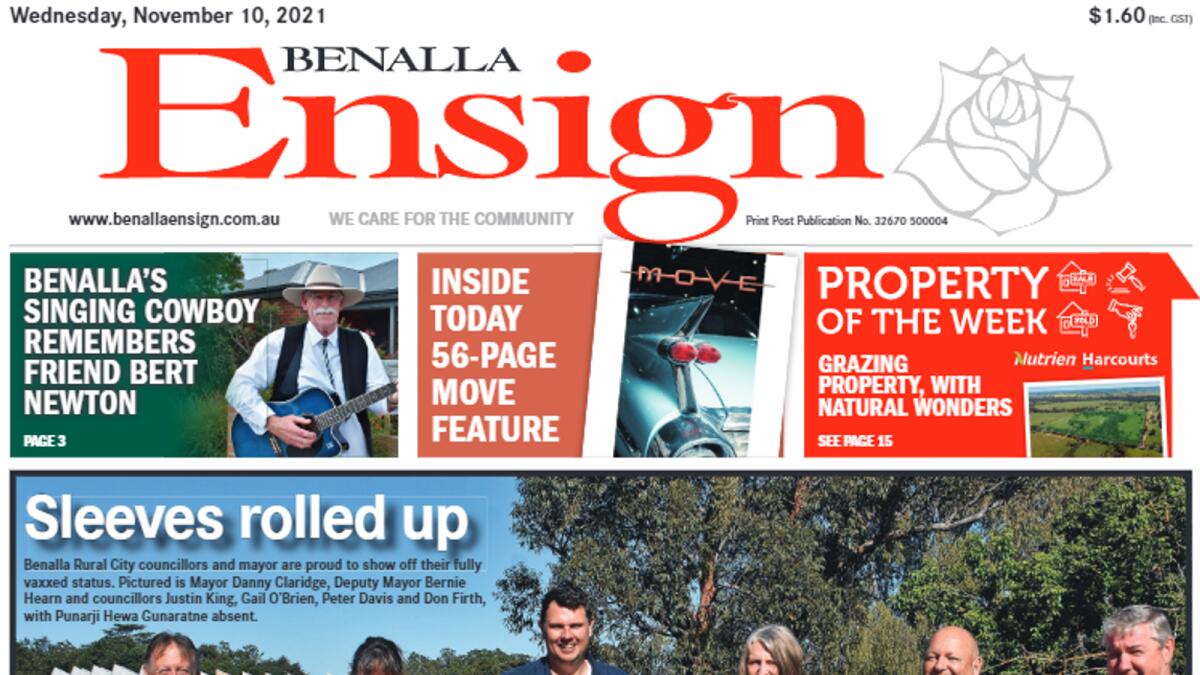 Benalla Rural City Councillors posed for a page one photo showing they had all been double vaccinated against COVID-19.
Benalla's Tyler Brodie announced he would one again be holding his Movember fundraiser in the Rose City.
Benalla Auto-Club announced chief executive Chris Lewis Williams would be departing the role.
November 17
Benalla RSL was able to hold a special Remembrance Day Service in the Botanical Gardens.
Councillor Bernie Hearn was elected Mayor of Benalla.
Frustration grew for local sporting clubs which, after facing the effects of repeated lockdowns , saw events cancelled across the region because of bad weather.
November 24
Benalla's Bill Willett called on local people to join a committee with the aim of securing a heritage listing on parts of the former Benalla P-12 College Barkly/Dunlop Campus.
Benalla had two division-one Lotto winners. However, the actual figure was closer to nine, with one of those winners being a local syndicate.
In sport the All-Blacks' Samantha Bochtler won the prestigious AFL North East Border Open Netball Coach of the year award.
December 1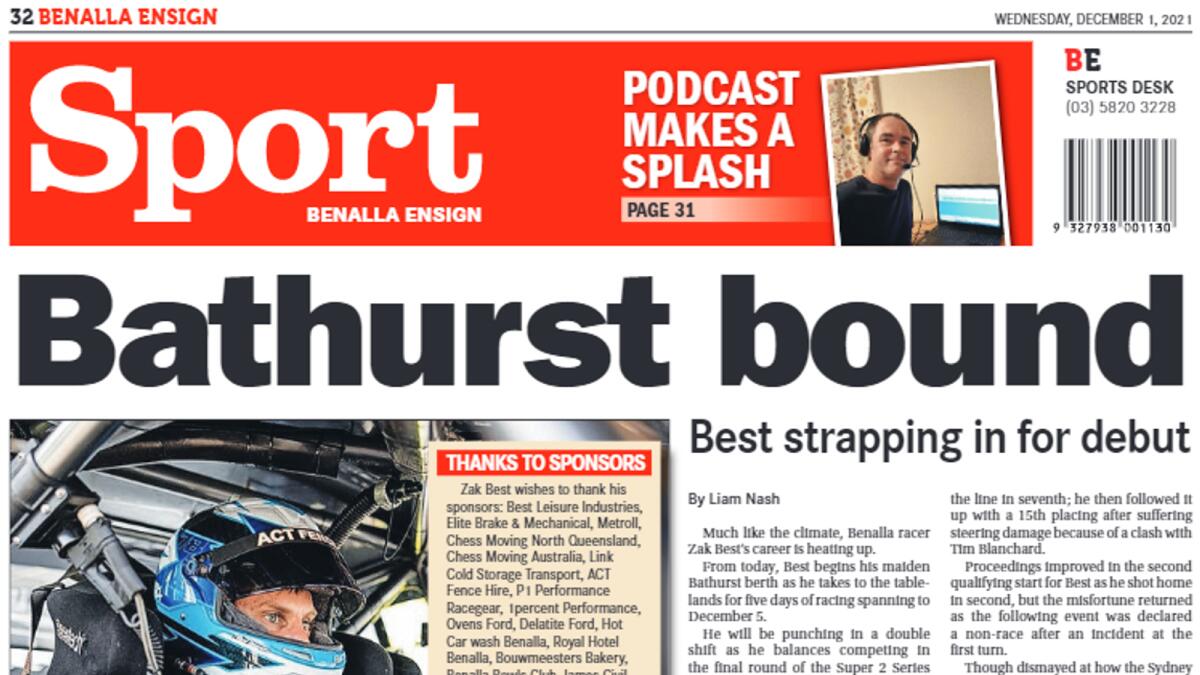 Local artisanal goats cheese producer Little Cedar opened a new outdoor paddock-to-plate dining experience in the property in Winton.
Benalla Business Network's annual "shop local at Christmas" Window to Window event was announced. It is one of very few community initiatives to not cancel any events throughout the pandemic.
The Ensign reported on Zak Best's upcoming appearance at the Bathurst Repco 1000.
December 8
Benalla filmmaker Charlie Williams took out the top prize at the seventh annual Benalla Film Festival.
FCJ College students celebrated their end of year with events at the Benalla Racing Club. Three Year 9 students were also named winners of the Spirit of Anzac Award.
Zak Best took out two fourth placings at the Repco Bathurst 1000. He also took out second place in the Dunlop Super2 Series.
December 15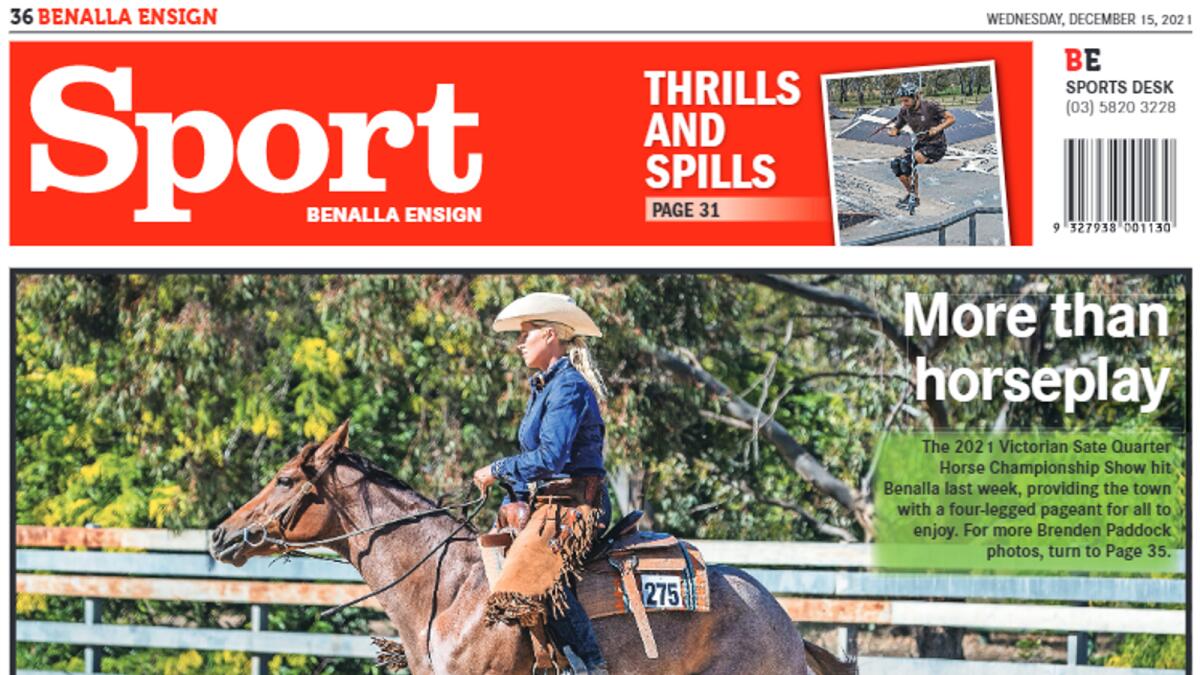 Benalla Lions announced its ever-popular Carols by Candlelight would return.
Staff in businesses across Benalla donned colourful hats to mark Rotary's Lift the lid on Mental Health campaign.
Benalla Racing Club announced it was able to allow spectators at its upcoming Christmas Party Race Day.
December 22
Benalla sang for joy as the Lions Club's popular carols by candlelight returned to the gardens oval.
Benalla's Bill Sykes met with members of the Benalla Sustainable Future Group on his farm to discuss ways to achieve carbon neutrality.
In sport it was suits and fascinators as far as the eye could see at the Benalla Racing Club's Christmas Party Race Day.