A Year in Review January to June
January 6
The front page of The Ensign this week celebrated the success of local students who achieved above expectations in what was a difficult year with home schooling and lockdowns.
Popular local principal Michele Ramage retired from the Flexible Learning centre.
In sport Benalla trainer Jason Selman celebrated his first win at the $22,000 Greta West Stud handicap.
January 13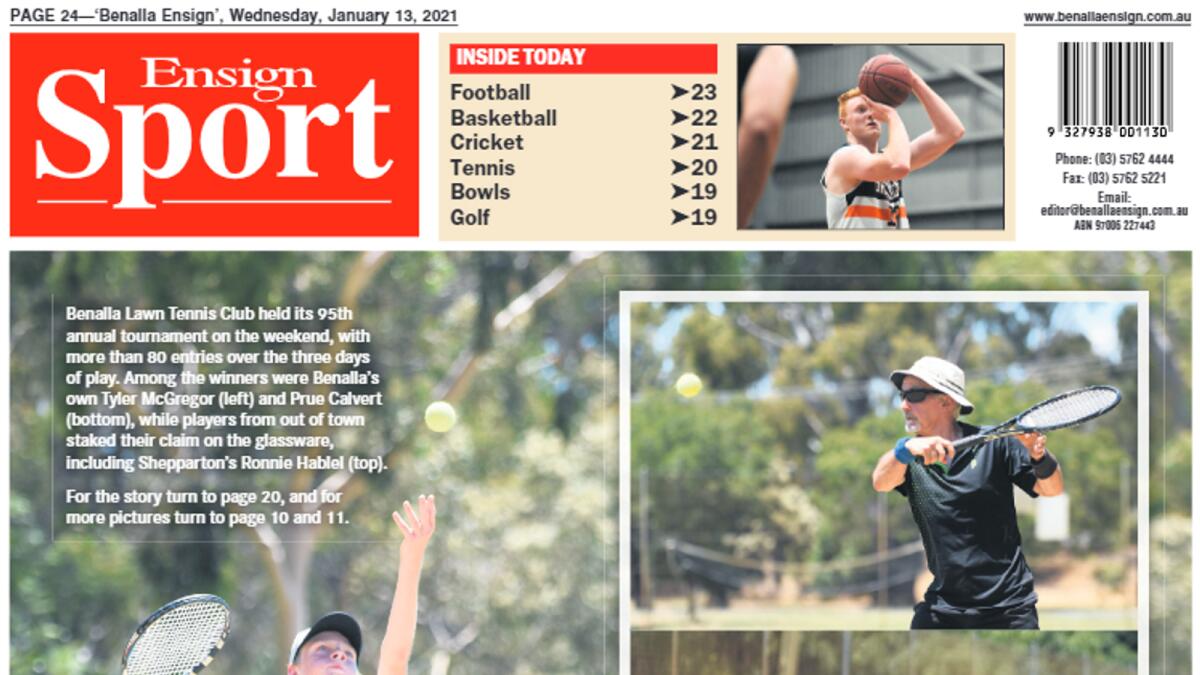 This week the towns of Devenish, St James and Goorambat celebrated receiving a share of $60,000 raised by the sale of silo art calendars.
The Gliding Club of Victoria, based at Benalla airport came to the rescue, offering to host YouthGlide Victoria Regatta — after the planned airport event was cancelled because of COVID-19.
In sport talented local youngster Tyson Cromie celebrated was named on the Australian National lawn bowls team.
January 20
Aussie retailer Wesfarmers announced that the Benalla branch of Target would close.
A Benalla man spent the night in hospital after an alleged stabbing near Wedge St.
Sport featured a profile on the Benalla Saints coaches for the upcoming season.
January 27
The Benalla P-12 College graduating class of 2020 was pictured on page one of The Ensign, the relief was clear to see on their faces after completing a year with repeated COVID-19 lockdowns and home-schooling.
Benalla congratulated locals June Howard and Lia Greenhalgh on being named Benalla Rural City Citizen of the Year and Young Citizen of the year.
In sport The Ensign spoke with Benalla girl, and Geelong Cats star Becky Webster about the upcoming season.
February 3
Police seized cannabis with a street value in excess of $1 million at a Benalla address.
Goorambat's Anne Marie Greenway made and sold face masks to raise funds for local volunteer McGrath Nurse Kerry Patford. Ms Greenway's hard work raised more than $1000.
In sport more than half a dozen Benalla riders took part in a HRCAV show jumping event.
February 10
A man was airlifted to hospital after being injured at LS Precast Concrete Plant.
Benalla's Electra Gercovich shaved her hair for Leukaemia charity Worlds Greatest Shave.
In sport The Ensign featured a photo spread of junior tennis players at the Benalla Lawn Tennis Club.
February 17
Benalla joined the rest of the state in being plunged into a new lockdown to prevent the spread of COVID-19
The Ensign also reported on the return of the eve popular Swanpool Motor Festival.
In sport The Ensign looked forward to the Benalla Saints Women's team's first game of the season.
February 24
The communities of Benalla, Euroa, Glenrowan and Wangaratta banded together to fight unpopular plans for the Inland Rail Project.
The Ensign also published the sad news that Wall to Wall 2021 was cancelled.
In sport competitors from the upcoming 2021 Supercars Championship took part in a day of testing at Winton Motor Raceway.
March 3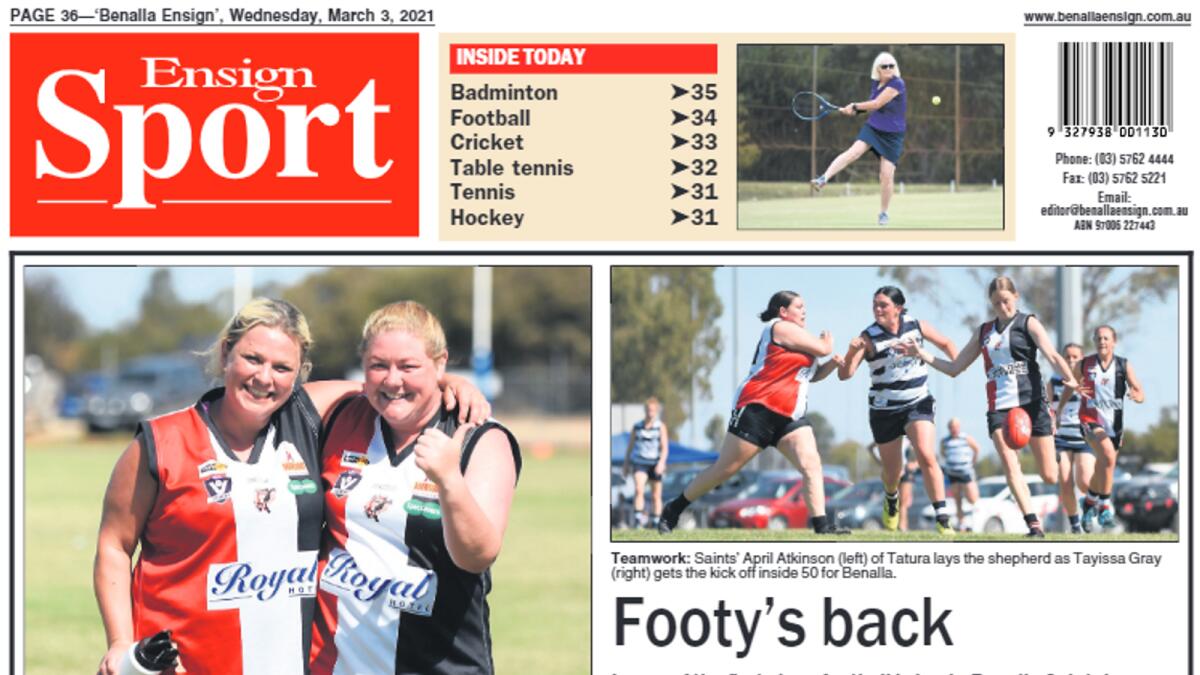 Benalla Vet Nicole Barrow was presented with the Victorian Trainee of the year award for 2020 by State Minister for Training and Skills Gayle Tierney.
The Ensign spoke with local gym owner Scot Upston about the acts of generosity and kindness that had allowed Primal Gym to remain open despite repeated closures throughout the past 12 months because of COVID-19 restrictions.
Benalla Super2 driver Zak Best finished second at the Mount Panorama stage of the championship.
March 10
The Ensign reported on the selfless work of CFA voolunteers who had battled several blazes in the area in the past week.
Students from Benalla P-12 College and FCJ College toko part in the Zonta Young Women's career breakfast in Wangaratta.
It was announced that the 44th Historic Winton event would take place, but sadly no spectators were allowed to attend.
March 17
It was announced that COVID-19 vaccinations would finally be available to residents of the Rose City.
A convoy of trucks, utes and cars travelled from Benalla to Alexandra in memory of popular local Richard MacKinnon.
Richmond legend Jack Riewoldt surprised former Benalla Saints star John Martiniello with a surprize zoom call.
March 24
Benalla P-12 College students took part in a day of fun and games to launch the 2021 Live4Life program.
Deputy Prime Minister Michael McCormack visited Benalla Station to hear the concerns of locals regarding the Inland Rail Project.
Winton Motor Raceway announced a partnership with motorcycling Australia to make the track home to the bLU cRU Oceania Junior Cup.
March 31
Tomorrow Today held a careers carnival for local years 10 and 11 students.
A commercial quantity of meth amphetamine and cocaine was discovered after a truck was stopped near Benalla.
Benalla's Hannah Edgley was one of just six riders named to the Victorian Apprentice Jockey Training program.
April 7
Benalla and District once again punched above its weight raising more than $120,000 for the Royal Children's Hospital Good Friday Appeal.
Waminda Community house began a series of workshops and activities for local youngsters.
In Sport Benalla Bowls Club introduced a new Junior team to encourage more young people to take up lawn bowls.
April 14
Benalla's Leanne Hinds was celebrating after finally being able to book a flight to New Zealand, after being separated from her family for more 12 months.
Benalla artist Tim Bowtell announced he had been signed up to paint a mural as part of Goulburn and North East Alliance Across the Arts Festival.
Racing fans were ecstatic to find out that spectators would be allowed to attend the 44th Historic Winton event.
April 21
Benalla Rural City announced it would look to reduce its use of single-use plastics in its departments and at council-run events.
Youngsters from Benalla and District enjoyed a night of live music at an event set up by the FReeZA Crew.
The Benalla Saints returned to the GVL winners list after defeating Shepparton by 23 points.
April 28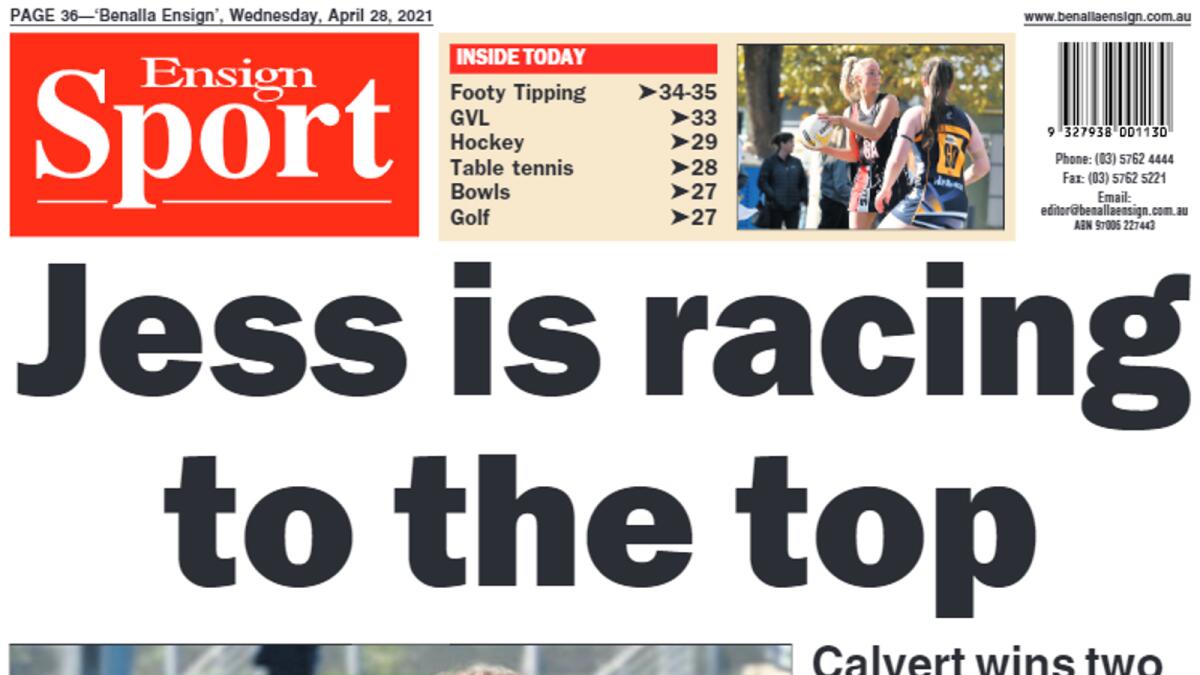 Benalla and District marked Anzac Day with a series of events across the Local Government Area.
State Member for Euroa Steph Ryan spoke out against the proposed closure of the Benalla Centrelink office.
Benalla's Jess Calvert won two silver medals at the Australian Track and Field Championships.
May 5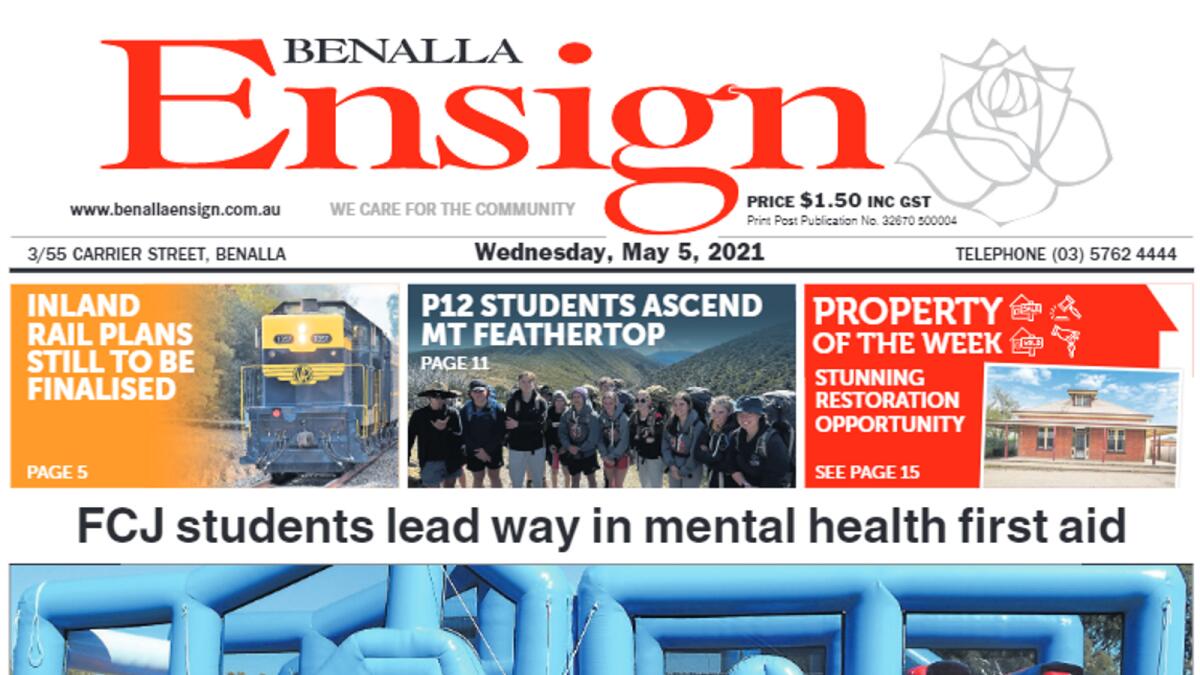 Students from FCJ College enjoyed a day of fun and games to launch its 2021 Live4Life program.
Sisters Fiona and Estelle Parker visited Benalla Art Gallery to see a Juan Ford painting, which used to hang in their childhood home, after their father donated it to the gallery.
The Benalla Panthers beat Goorambat by 48 points in what was described as a physical game.
May 12
Benalla Rural City Council spoke to The Ensign about the proposed closure of Target after some people in the Rose City misunderstood its role and thought it was in a position to choose the next tenant of the building.
The Benalla Food Co-Op celebrated its 10th birthday.
The Benalla Bulldogs beat the Kangaroos 185-0 in the Wangaratta District Junior League.
May 19
More than 200 blankets were donated after the Benalla Branch of the Bendigo Bank, Green N Grow and Waminda House partnered in a blanket drive.
It was announced that the Swanpool Creative Recycled Art Prize (SCRAP) was due to return.
In sport Violet Town's Sean Horsburgh celebrated his 300th game for the club.
May 26
Benalla sisters Amelia, 10 and Elina, 8 raised $2080 for the Hair with Heart charity.
It was announced that Benalla's hard working police officers would get a new Police Station funded in the State budget.
Benalla trainer Peter Burgun and Jockey Shirley Hunter celebrated winning 30 per cent of their past 20 starts.
June 2
A scene from a new film about the Black Saturday bushfires was filmed in Benalla.
A Benalla-based business announced it was using cutting-edge technology and scientific validation to address neuro-degenerative diseases such as Alzheimer's.
In sport it was announced that the Winton round of the 2021 Repco Supercars Championship was postponed.
June 9
FCJ College announced that Principal Joanne Rock would be leaving the school with new Principal Shaun Mason due to take over in July.
Benalla breathed a big sigh of relief after the Royal Freemason's Aged Care facility was given the all clear after a staff member visited a petrol station that had been listed as a potential COVID-19 exposure site.
Benalla was chosen to host the 2021 JoeyGlide youth gliding event.
June 16
The Benalla A&P Society announced that the Rose City's Spring Show would go ahead in October.
Former Warrenbayne farmer Pamela Robinson was awarded with an AM on the Queen's Birthday Honours List.
The Benalla Giants defeated the Benalla Bulldogs under the lights in the Wangaratta District Football League.
June 23
Benalla retailer Stolz celebrated winning two industry awards.
Cheap as Chips opened in the former Target building on Bridge St, bringing 21 jobs to the Rose City.
In sport it was heartbreak for the Benalla All-Blacks A-Grade Netball team who were defeated by Milawa by just one point.
June 30
Benalla Rural City Council encouraged local people to take part in its 2021 NAIDOC week events.
Benalla P-12 College years 5 and 6 students were awarded a VicHealth Reimagining Health grant.
Benalla's up-and-coming soccer star Meagan Webster was awarded a $500 grant from the Benalla Young Sportsperson's Trust.