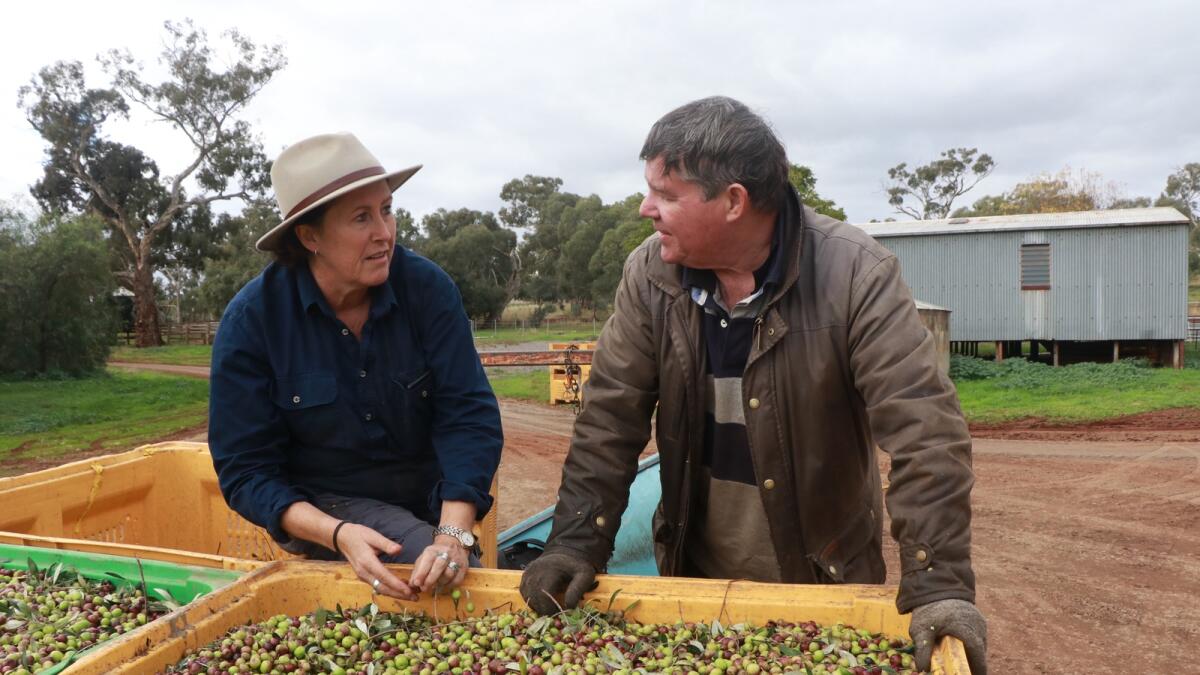 Across northern Victoria the olive harvest is winding up and growers are dispatching the last of their crop for crushing.
At Cosgrove, on the slopes of the Dookie hills, Monica and Rod Sutherland have engaged a harvesting machine operated by experienced Rushworth olive grower Russell Knight.
Last year they harvested about 20 tonnes of the Signore variety from the 15,000 trees in two groves, and Ms Sutherland said they were hoping for more after a better growing season.
The harvest will be sold to a bottler after being crushed at a Kialla processing plant.
The Sutherlands inherited the groves when they purchased the Cosgrove property. They are now exploring regenerative farming practices.
The French-made Gregoire machine straddles the rows and mechanical arms beat the fruit off the branches. The olives are collected on a moving conveyor belt and carried to a hopper.
Although principally used for the Lisadurne Hill grove at Rushworth, the machine is contracted to harvest on some other properties.
Mr Knight planted out 27,000 trees in 2008 on the historic Lisadurne property in a bid to make the land more productive.
"The ironstone and clay soil was just not suitable for cropping. But the olives love it," he said.
Most of the harvest is sold, but he and partner Tina Knight keep about 20 per cent for selling under their own Lisadurne Hill brand at farmers' markets.
Their olive oil has picked up a few awards over the years. In the 2020 competitions, the Hill Paddock Blend was named Reserve Champion and two of the labels won a gold medal.