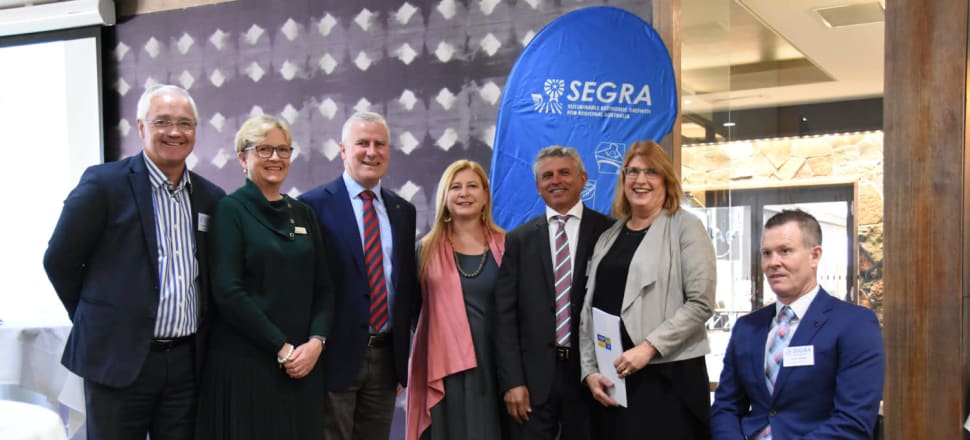 5370537724001
About 200 people are expected to come to the region with Barooga to host the national Sustainable Economic Growth for Regional Australia conference in August.
The forum, from August 20 to 22, brings together regional development practitioners, industry, researchers and government to discuss development in Australia.
SEGRA 2019 was announced at Barooga Golf Club on Thursday with local councillors from Berrigan and Moira shires, Federal Member for Murray Damian Drum and Deputy Prime Minister Michael McCormack.
And the topic of conversation was water, among other things, with Berrigan Shire mayor Matt Hannan challenging Mr McCormack to encourage Prime Minister Scott Morrison to visit the area and see the plight of our farmers (read more on page 10).
''We are facing many challenges out here in the bush at the moment and one key ingredient to our success going forward is, obviously, a five-letter word: water,'' he said.
''We don't expect any more than anyone else but we do expect a fair go. We live out here because we love the lifestyle and we can host great events such as SEGRA at the Barooga Golf Club — living here means water is extremely important to us.''
For more than 23 years, SEGRA has speaking out for regional Australia, something Mr McCormack said was vital to the success of growing regional Australia.
''It's all about coming together as a community, and there is a community sense among politicians,'' he said.
''But it's a lot easier for us when we have organisations such as SEGRA partnering with other groups such as local government and regional development authorities, who come to us as a collective.
''Because all too often people come to us with problems but never solutions.
''All too often people want one thing for their town, but if their town gets it the other one down the road complains.
''What we want to do is get that community aspect and that united aspect. And SEGRA is doing that.''
Mr Drum brought Mr McCormack along and said it was a case of being in the right place at the right time.
''As soon as I saw this announcement was happening today I thought; 'we've got to be there','' Mr Drum said.
''Apart from the boost to the local economy for accommodation, restaurants, hospitality and the service sector as we have people coming tinto town to take advantage of this part of the world, it is also the coming together of the minds.''
Mr Drum said the conference would serve as a chance to get projects off the ground faster — and to find solutions for existing problems.
''There are so many serious regional debates that regional Victorians have already lost, if you want to have a conversation around water, most people in Melbourne and Sydney have these visions of the Darling and 'those bastard irrigators who are flogging all that water and killing all those fish'.
''That's what Melbourne and Sydney are thinking right now, we've lost this debate somehow. And so it's SEGRA, SEGRA's links to the universities, the link to the academics who can actually bring some truth and facts back into the debate.
''And moving into energy, we're getting smashed in the energy debate because we live in a state that has forbidden any exploration or extraction of gas.
''We have lost the debate on gas, it's crazy. A fuel that burns 50 per cent cleaner than coal and can be that transitional fuel that we need as we go toward renewables.
''We have no doubt where we want to go with renewables, but we've lost the way to get there, and SEGRA can play a role in opening up some minds and helping us, because we can't just do it by being whingeing people from rural and regional Australia, we have to do it with science and academia.''