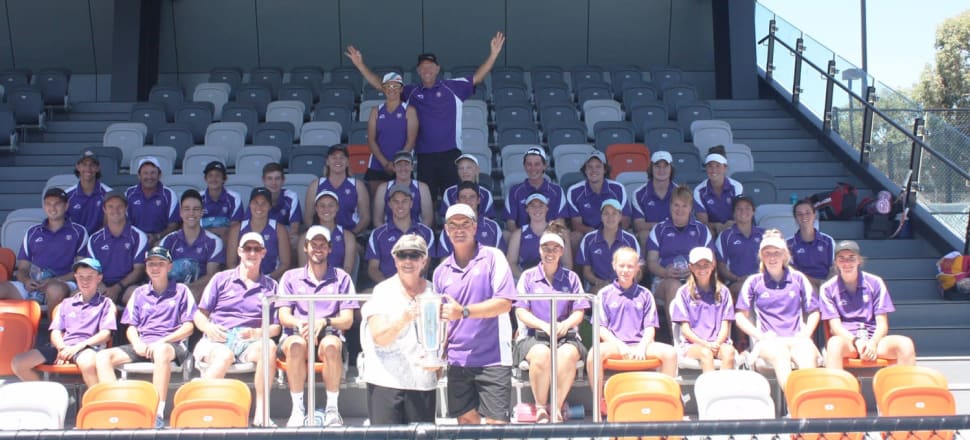 5370537724001
THE Goulburn region continued to shine at the Inter-Regional Country Championships, claiming its third consecutive crown on Sunday.
It was a crushing win for the side at Bendigo's Fosterville Gold Tennis Centre, running away to win by 32.75 points ahead of Loddon Campaspe and Barwon.
Team manager Heather Lees was over the moon with the brilliant performance, that had 11 individual titles for Goulburn representatives with four separate one-two finishes.
''We're more than happy, ecstatic actually,'' Lees said.
''Our history in the competition is we won it two years ago and last year, but before that hadn't won it for 57 years. To win for the third time in a row is fantastic.''
Headlining the romp was a brilliant display from captain David Starling, who won singles, doubles and mixed doubles at the 35-49 level.
But Lees said winning by such a margin was about team-wide success rather than any standout performers.
''It's a big team, we have 39 members and it took an even contribution to do it,'' she said.
''Everyone chipped in in some way, even if it wasn't getting to the finals, the quarter-finals, semi-finals, it's all points for our tally.
''We got some good performances from a few players, but it was the consistency of play right through the team.''
Starling won his singles final against teammate Bruce Ferguson 6-4, 6-4, before the duo combined to win the doubles final 4-1, 5-4.
The captain also paired with Helene Steward to win the mixed doubles 4-1, 4-1, Steward too strong for Karen Royle in the women's singles final 6-2, 6-1.
The side's Open success came via Jarrod Bingham and Brooke Starling, beating teammates Sam McKenzie-McHarg and Hope Curtis-McDonald 4-5, 4-2, 10-3 in the mixed doubles final.
James Curtis-McDonald knocked off teammate Nicholas Gattuso to win the 25-and-under singles, before the duo worked together to take home the doubles crown.
Lisa Niglia also had a huge tournament, beating Goulburn's Leanne More 6-4, 6-4 in the women's 50-plus singles final, also teaming with John Evans to win the mixed doubles.
Olivia Quigley won the girls' 18-and-under singles (6-4, 6-3 v Ruby Rothman), while Aaron Niglia was the team's youngest winner, taking out the boys' 14-and-under singles (7-6, 6-7, 10-5) against Curtis Fitzgerald.
Shepparton Bulls player Eliza Long won the Open women's singles representing home region Loddon Campaspe, beating Nicole Mullen 6-2, 3-6, 10-6 in the final.
Goulburn captain Starling paid tribute to the work of Lees co-ordinating the team and helping it produce such outstanding results.
''Everyone who plays for Goulburn loves Heather and everyone who plays has that little bit extra to give because we love her so much,'' Starling said.
''She just encompasses what tennis is all about.''