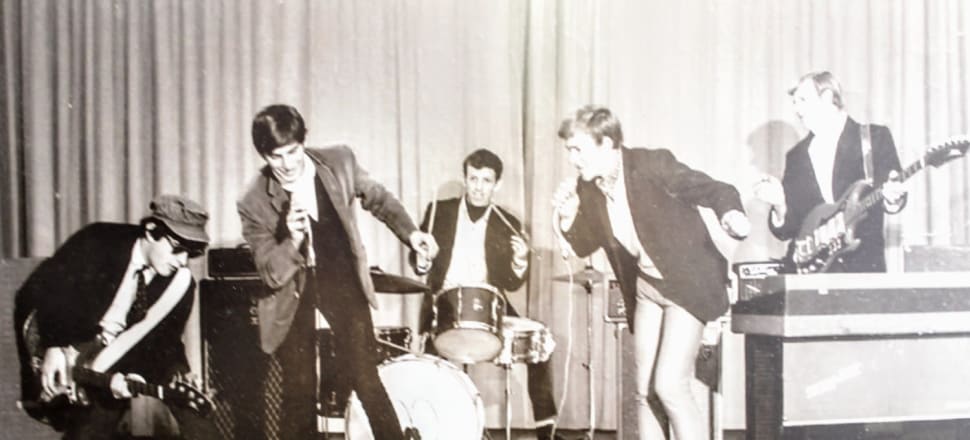 5370537724001
FORMER Kyabram resident Campbell King has been remembered as a pioneering businessman, energetic community contributor and a loving family man with a quirky sense of humour.
Mr King died at his Mooroopna home after a long battle with cancer on January 26, one day short of his 72nd birthday.
To the wider community, Mr King is best known as co-founder of independently owned supermarket chain Tuckerbag, based in Mooroopna.
To his family, daughter Jodie Gration said he was a caring and committed father and grandfather.
''Dad loved people, he always made time and cared deeply about everyone. He was always the first to join in events, and was genuinely interested in his brothers and sisters and nieces and nephews' successes and life challenges,'' Ms Gration said.
Campbell King was born in Kyabram in 1948, the eldest son of Ken and Lesley King. After early schooling in Kyabram he attended as a boarder at Caulfield Grammar School where he finished on the day The Beatles arrived in Melbourne in 1964.
This event, combined with his enthusiasm for rock 'n' roll, played out when he returned to Kyabram and joined a band with four mates: Trevor Stasey, Max Thomson, Graham Jackson and Billy Parkinson.
The group 3 To 1 became popular around the Kyabram district and beyond, and played a significant part in Mr King's life — his future wife Janice Smith was a Go-Go dancer with the band.
The couple married in February 1968 and went on to have two children, Jodie and Chris.
Ms Gration said in many ways her father was a traditionalist, and told a story to illustrate the fact.
She said several hours after the birth of his first son, Mr King had still not visited the new arrival.
''Dr Tisdall called by to find out why not, and Dad's very logical answer was — he thought he had to wait for visiting hours,'' Ms Gration said.
After working as a dairy herd tester, Mr King joined his mother and father to work at their Big Star supermarket.
''He started in the office and hated it, then moved to the liquor department and loved it,'' Ms Gration said.
In 1971, Mr King joined his father and several other retailers to form the Tuckerbag supermarket brand.
In 1974, Mr King and his family moved to Mooroopna to open their own
Tuckerbag store in McLennan St.
The supermarket brand with the iconic talking paper bag mascot ''Tucker'' grew across Victoria and Australia to become the largest independent supermarket retailer in the country before being taken over by FoodWorks in 1999.
Ms Gration described her father as ''an out of the box thinker — often described as a bit of a rebel''.
She said Mr King was the first retailer to discount bread, which earned him a mention in Federal Parliament.
He also challenged the established rule that red meat could not be sold past 1 pm on a Saturday.
''On the cages used to cover red meat, he put signs saying, 'if you want red meat after 1 pm Saturday, please contact local member Peter Ross-Edwards, and listed his phone number.
"This earned him a visit from Peter Ross-Edwards,'' Ms Gration said.
She said her father also helped run a successful price war against supermarket giant Safeway from his stores at Echuca, Kyabram and Shepparton. Safeway eventually withdrew its Kyabram store from the campaign.
''We remember it as our David and Goliath moment,'' Ms Gration said.
Mr King was also an active contributor to the Mooroopna community, as a member of Mooroopna Rotary Club and Mooroopna Cemetery Trust.
Ms Gration said her parents could often be seen mowing lawns and tidying overgrown areas at the cemetery on a Saturday afternoon after the supermarket closed.
''Dad and Mum decided that if Mooroopna was going to be their home, then they were going to be buried there,'' she said.
She said her father also enthusiastically supported his family's involvement with local hockey and coached the struggling Westsiders Hockey Club to grand final victory in 1983.
Mr King was diagnosed with stage four cancer in 2011 and went on to bravely battle the disease for another nine years.
''He battled privately, he never complained about anything, and he went on his own terms,'' Ms Gration said.
She said in later years, Mr King relished in his role as ''Bomba'' to his four grandchildren, Ryan, Zach, Connor and Olivia.
Ms Gration said her father was never afraid to say what he thought, had a great sense of humour and was passionate about people and things close to him.
''Once he committed he was 100 per cent in," she said.
His advice to his children and grandchildren was always ''be the bigger person''.
The life of Mr King was celebrated with a service conducted by retired policeman Ian Bull at the Sir Ian McLennan Centre in Mooroopna on February 3, followed by burial at Mooroopna Cemetery